Retekess TD006 Table Paging System with stable signal and long range
Ideal for restaurants, bars, cafe shops, SPA, etc
Made of ABS material for durable use; IPX3 waterproof; Built-in 12V/23A battery
Work out of the box after pairing it with receivers
Each table button comes with two pcs of acrylic plates for adding your own logo,
table number, or anything else you want to show to your customers or staffs
Only
5000
left in stock - order soon.
Retekess TD006 WirelessTable Botón de Llamada
El botón de llamada es compatible con los receptores de reloj Retekess y los receptores de pantalla host.
Cuatro claves para satisfacer las necesidades de una variedad de industrias
Diseño impermeable y antideslizante.
Cada buscapersonas viene con dos piezas de placas acrílicas transparentes.
Puede ponerlo sobre la mesa directamente. Si los clientes necesitan servicio, pueden presionar para llamar. El servidor recibirá la señal e irá a servir
Sistema de localización de restaurantes
El alcance de la señal cubre 200 m/1640 pies en un área abierta

Placa acrílica de 2 piezas para cada buscapersonas negro
Botones de llamada
Botones de 4 teclas, agua, cancelar, llamar, factura

Fácil de fijar el papel publicitario en el medio de dos placas por el imán en la placa transparente
Sistema de llamadas de restaurante
Aplicado a restaurante, hogar de ancianos, cafés, supermercados, hotel, salas de hospital, centro de emergencia, bancos, escuelas, fábricas, sitios de construcción
Ayudarlo a mejorar la calidad del servicio
Tenga en cuenta amablemente:
Este es un botón de llamada de mesa inalámbrico, necesita usar un buscapersonas de reloj de pulsera, receptor de host
Solución: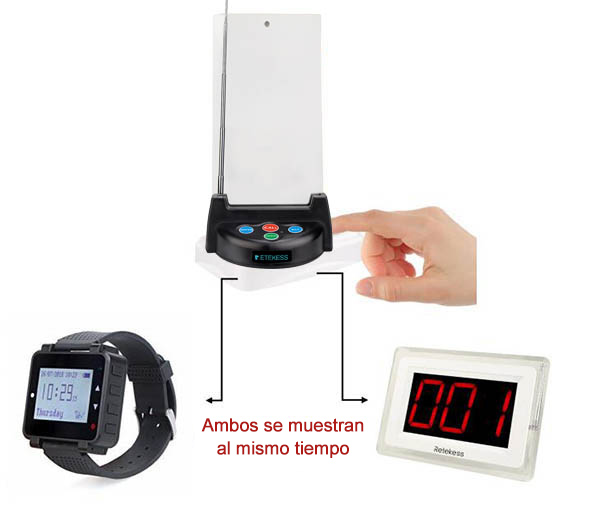 Solicitud: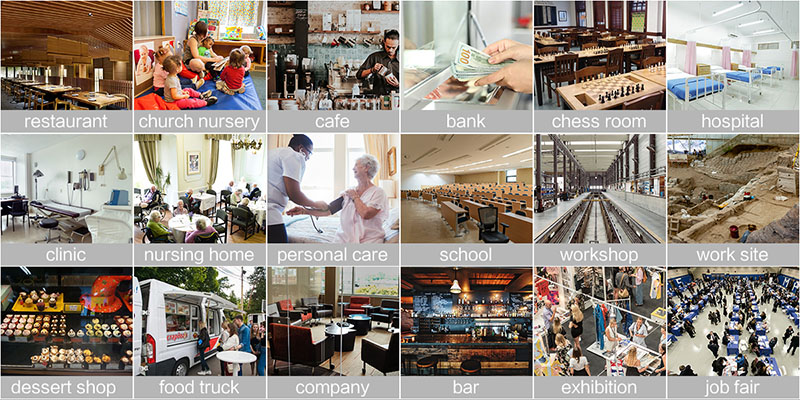 Háganos saber sus requisitos e información de contacto
Especificación:
Frecuencia RF: 433MHz
Modo de modulación: ASK (AM)
Material: ABS
Alimentación: batería de 12V/23A (incluida)
Corriente de trabajo: 18mA
Corriente en espera: <1uA
Impermeable: IPX3
Tamaño: 112 x 72 x 49 mm
Placas acrílicas transparentes: 158*100mm
Paquete:
1 botón de llamada.
2 tablas de plástico.
P: ¿Es posible comprar 10 localizadores de mesa negros y vincular los 10 a 1 receptor de reloj (T128) y 1 receptor de pantalla (T114) simultáneamente?
R: Sí, puede emparejar los 10 botones de llamada con 1 receptor de reloj y una pantalla

P: Creo que se me pueden haber escapado dos de las tablas acrílicas... puede que las haya tirado accidentalmente junto con la caja. ¿Puedo comprar estos en su
¿propio?
R: Sí, puede comprarlos por su cuenta. No dude en enviarnos un correo electrónico a support@retekess.com